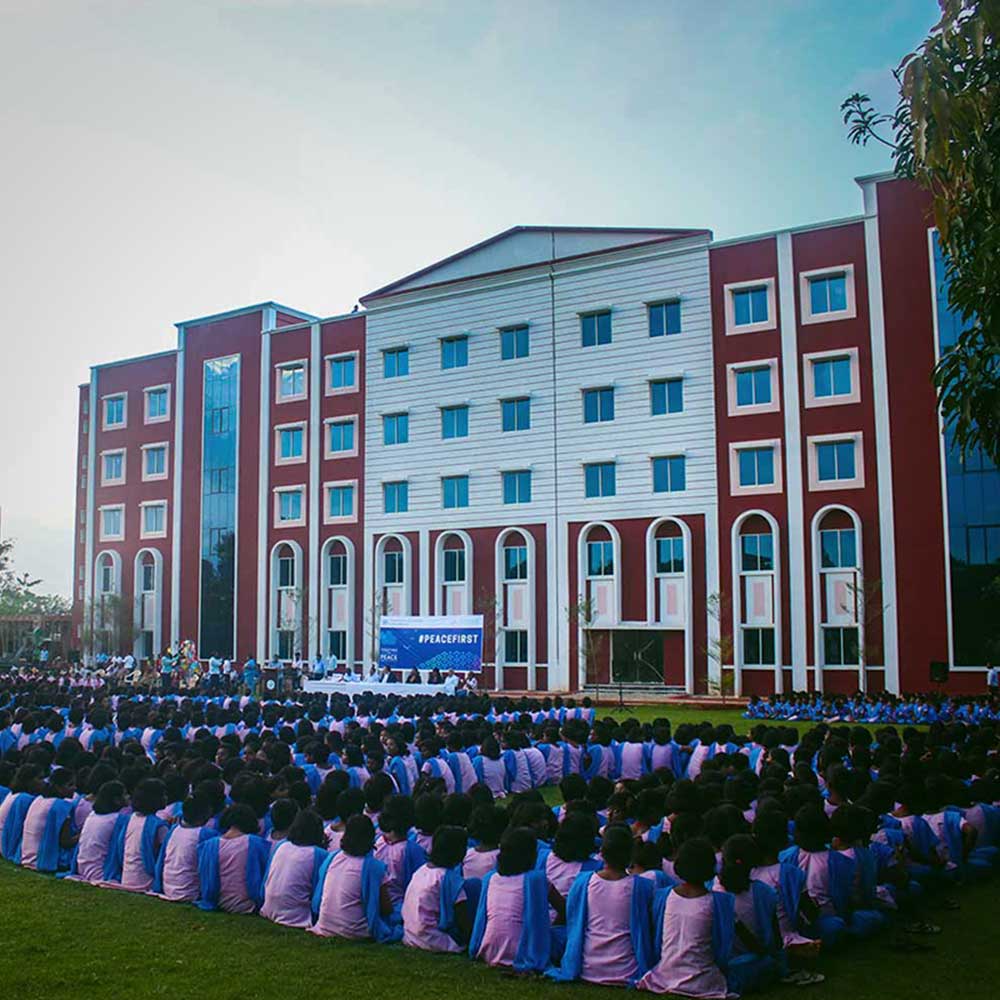 Empowering Underprivileged Tribal Children to Aim for the Sky
Kalinga Institute of Social Sciences (KISS) is the world largest fully-free fully-residential institute for tribal children providing education from KG to PG, room and board, medical care, vocational and sports training to 70,000 indigenous children (30,000 students in KISS, Bhubaneswar, 20,000 Alumni and 20,000 students in various satellite centers) from 62 different tribal groups. Founded in 1992-93 by eminent educationist and social activist Prof. Achyuta Samanta, the institute has brought a silent revolution among tribal population to eradicate poverty through education. KISS has become the first exclusive tribal deemed to be university in the World, the status accorded by the Ministry of HRD, Govt. of India. It has been in special consultative status with ECOSOC since 2015 and works in close collaboration with the United Nations and its agencies and organs. KISS has produced more than 5000 athletes and sportspersons participating and winning in various national and international events. The students of KISS have performed well academically, their pass percentage being higher than the state average for tribals. KISS stands for Gender Equity, Vocational Empowerment and Women Empowerment based on the 3E formula of "Enable, Educate and Empower." The most important principle of the success of this model is the indigenous control of education, where importance is given to preserving the culture, heritage and traditions of tribal communities.
KISS not only plays a key role in empowering tribal communities through education, but also actively collaborates with national and international bodies to solve development challenges facing the world today. Some of its collaborative projects include state-wide Adolescent Reproductive & Sexual Health (ARSH) and Life Skill Education (LSE) in partnership with UNFPA; Skill Development Programme in association with UNDP; and a Centre for Children Studies in association with UNICEF. US Embassy sponsored English Access Micro Scholarship Programme and Bernard van Leer Foundation sponsored Mother tongue based Multilingual Education are a few more from its numerous collaborative initiatives.
In 2018, KISS in partnership with British Council India hosted the 'Commonwealth Big Lunch'. More than 30,000 persons, including students of the institute, had a sumptuous lunch with High Commissioners, Deputy High Commissioners and representatives from the High Commissions of 53 Commonwealth countries and British Council at a time at one place. The 'Commonwealth Big Lunch' was a part of 70th year celebration of British Council's inception in the Commonwealth countries of the world. KISS was the only organisation selected from Asia along with four other Commonwealth countries, including Australia, South Africa, Ghana and Edinburgh, to host the Commonwealth Big Lunch.
While the numbers are impressive enough to merit a special documentary in the National Geographic Channel (India's Mega Kitchen, August 29, 2016) and entry in the Guinness World Records on four counts (the Largest Human Sentence, the Laughter Yoga Class, Longest Human Chain-High Five and most people brushing their teeth simultaneously), the Institute's real credit lies in its remarkable success in transforming the most underprivileged children into powerful change-makers. With a focus on overall personality development of these children, KISS has produced hundreds of uncommon achievers, who herald new hope for the tribal community as a whole.
Some of the young achievers of the institute have created examples for tribal communities. Sumitra Nayak is one among them. Sumitra was born in a poverty-stricken family in Jajpur district of Odisha. Her future looked bleak after her mother had to run away from home with her three children, including Sumitra, to escape regular violence by her drunkard husband. However, like thousands of tribal students studying KISS, her fate changed for the better after she got admission here in 2004. She went on to captain the KISS Girls' Rugby Team. She delivered a talk at TEDx Pune, becoming the first representative from the tribal community to share her ideas on this prestigious platform. In 2017, she was nominated for the prestigious International Children's Peace Prize. As a rugby ace, she powered India to its first-ever International 15s Rugby win at Asia Women's Div 1 Rugby 15-s Championship in Manila in 2019.
In a similar story of empowerment, Shanti Murmu presented a talk and shared the stage with Nobel Peace Prize winner Prof. Muhammad Yunus at the Shared Value Summit in Gurugram. She is one of the two KISS students selected as the best Youth Venturers by Ashoka Foundation – Dharmananda Bhoi being the other one. It is for the first time that two tribal teenagers from India figure in the list of Youth Venturers of the Ashoka Foundation.
Shanti had lost her mother when she was only five months old. She endured ill-treatment at the hands of her step-mother throughout her childhood. Every student taking admission in KISS comes from sad circumstances similar to Sumitra's and Shanti's. However, the caring and enabling ambience of KISS helps them overcome all odds and aim for the sky. Aiming for the sky, Archery and Women Rugby teams of KISS won Gold Medals in the recently concluded Khelo India University Games 2020 held at KIIT Deemed to be University. Top archer from KISS Ranjit Nail won Silver Medal in individual event, Men's Rugby Team won Bronze Medal.
Success of KISS has been attracting world attention. It has darted into the list of top 189 NGOs of the world and been placed among the 10 best NGOs of India in the prestigious ranking of world NGOs published annually by NGO Advisor, a Geneva-based independent media organization. KISS has also been approved by the United Nations Department of Public Information (UNDPI) after scrutiny of its unparalleled work for 'Association' with it. Earlier, it had been conferred Special Consultative Status with the Economic and Social Council (ECOSOC) – the highest recognition to an Non Government Organization by the United Nations. The Institute has been awarded the Guide Star Champion Level Platinum Certification by Guide Star India for NGO Transparency. It is one among 14 NGO out of 51,400 to get the Platinum Certification.
The Institute routinely reaches out to tribal families in distress. In an example of this, KISS has admitted three daughters of Dana Majhi of Odisha's Kalahandi district, who was in news for carrying his wife's body on his shoulders for 10 km after ambulance allegedly refused help.
KISS is playing an important role in curbing Maoism in tribal areas of Odisha through education. It has recently admitted 18 boys and girls of Naxal-hit Gumudmah village of Kandhamal District in Odisha. While five of these children belong to the families that were the victims of accidental death during an anti-Maoist operation, the other 13 are small kids from the same village who expressed their desire to study at KISS. The district staff of the Institute convinced these families to send their children to KISS for their education. Interestingly, most of these tribal students are first timers in their families to get educated and venture out of forests. Thanks to the education they receive here, they are choosing to join the mainstream society, instead of the Naxal movement.
"The Institute provides holistic education to the deprived children and enables them to become global citizens of tomorrow. We have achieved significant success in this noble endeavour and believe that our experiences will be useful at international level," said its founder Prof. Samanta.
KISS has been recognised as an internationally replicable model of empowerment of indigenous (tribal) people. A branch of KISS was started in Delhi in 2013. The State of Odisha has a high concentration of tribal population, constituting about one-fourth in the total population. Like the rest of the country, they lag behind the mainstream population in terms of education and other development indicators. In view of this, KISS had planned to start its satellite centres in 20 districts of Odisha. Five branches of KISS have already started functioning in Mayurbhanj, Balangir, Kalahandi, Balasore and Cuttack districts. Work has been completed in another four branches and they will soon become operational in Boudh, Kandhamal, Ganjam and Keonjhar districts. All remaining satellite centres will become functional by 2022. Work is also in progress to set up satellite centres of KISS in 10 states and 10 foreign countries.
KISS has proved itself as a successful model of poverty eradication through education. The main campus of KISS in Bhubaneswar is running with support from KIIT Deemed to be University, a leading institution of professional education, also established by Prof. Samanta. With an aim to educate and empower 2,00,000 underprivileged children over the next decade, he is now in the process of setting up branches of KISS in 20 States of India with the support of the Govt. and Non Govt. agencies.