Go the Distance Hero Award for Prof. Achyuta Samanta
Posted on: 29 Jan 2020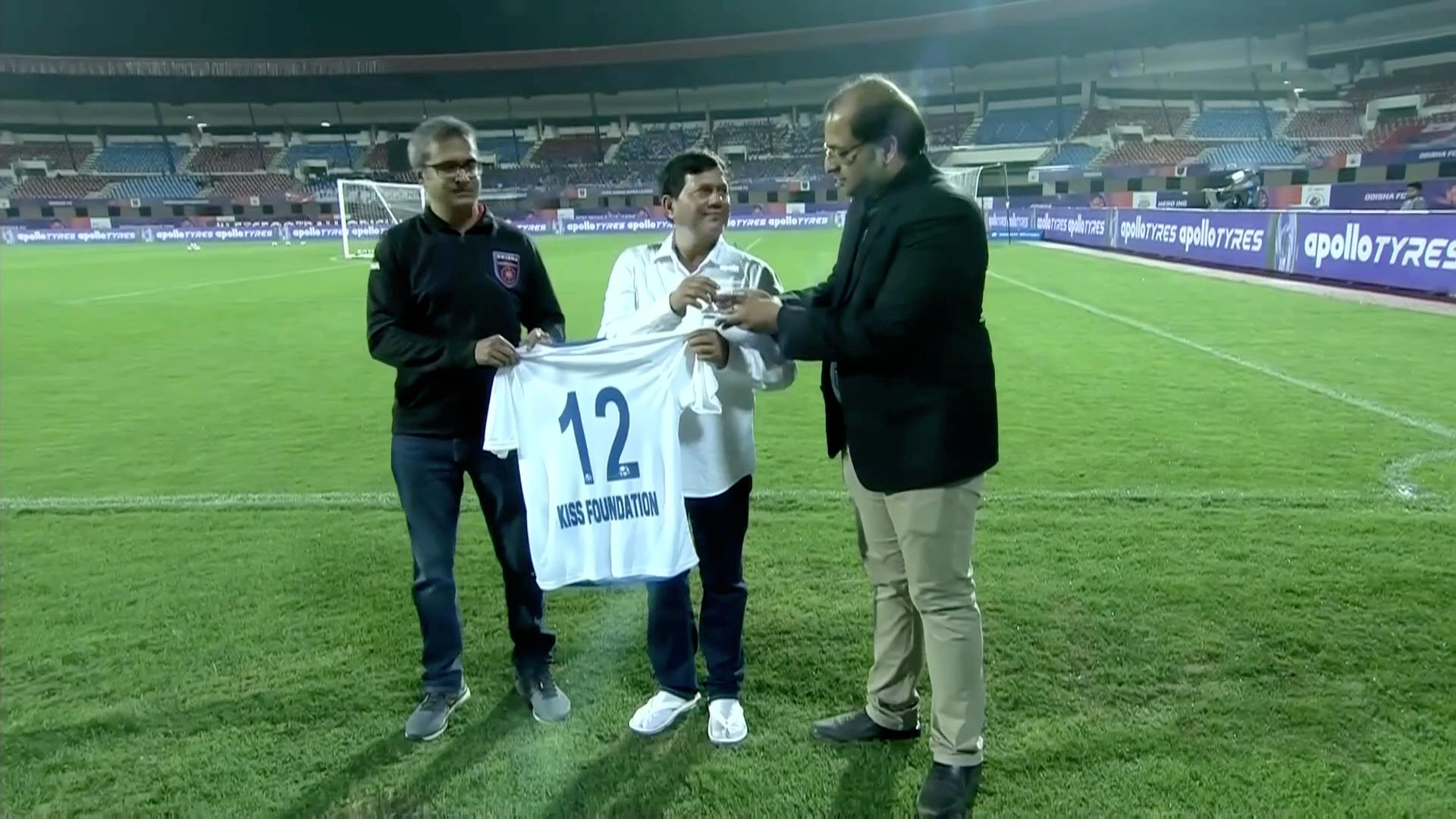 Lok Sabha Member of Parliament and Founder of KIIT and KISS, Prof. Achyuta Samanta was conferred with Go The Distance Hero by Apollo Tyres for working towards creating access to sport. He was awarded at a special ceremony before the ISL match at Kalinga Stadium on 29 January 2020. Besides the award, the story around Prof. Samanta's work that has been created by Star was also showcased to recognise the stellar contribution of KIIT and KISS in promotion of sports and sportspersons under the vision, leadership and commitment of its founder, Prof. Samanta.
It is pertinent to mention here that KIIT Deemed to be University and Kalinga Institute of Social Sciences (KISS) have been rewarded with Biju Patnaik Sports Award for 'Best contribution for promotion of sports and games' on the occasion of National Sports Day, on August 29, 2019 by Shri Naveen Patnaik. The first ever Khelo India University Games 2020 are to be hosted in KIIT from 22 feb- 1 March as well, which testifies its readiness and state of the art sports infrastructure and facilities at KIIT and KISS, next to none in India.
As a university with a vision for all round development, KIIT promotes sports and games among the students besides its commitment towards world leading academics. Remarkably, KIIT and its sister concern Kalinga Institute of Social Sciences (KISS) have produced about 5000 sports talents at a single place. Of them 900 are national and over 100 are international level sportspersons in about 30 sports disciplines. Dutee Chand, a student of KIIT, became the first Indian to win Gold Medal in the 100m event at the World University Games held in Italy. She has also represented India in the Olympics and won two Silver Medals in the Asian Games.
" We have tremendous potential in sports. Our hardwork and training is beginning to bore fruits. I would also like to thank Hon'ble PM of India, Shri Narendra Modi to lay immense emphasis on Sports and Shri Naveen Patnaik, Hon'ble CM of Odisha to make Odisha truly the sports capital of India. I am glad that KIIT and KISS has a contribution in this regard. I dedicate this award to all the sportspersons and budding sportsters from KIIT and KISS and their coaches for making the institutions, state and country proud. I always believe that sporting talents has to be nurtured from the formative years and from grasroots endorsing my slogan khelte khelte padhte raho and padhte padhte khelte raho"

said Dr. Samanta after receiving this award.