My humble tributes to the brave hero of Odisha, valiant freedom of India, a dare devil go getter and a true humanitarian, Shri Biju Patnaik (Biju Babu) on his death anniversary. Today, we non ceremoniously observed the tithe like most of my Odia brothers by remembering his values, reminiscing what he did for Odisha and why Biju Babu was Odisha.  While paying him floral tribute to him with 4-5 members of staff from KISS at the campus, images of Naveen babu came to my mind. Perhaps he has been the correct example of "The Legacy continues"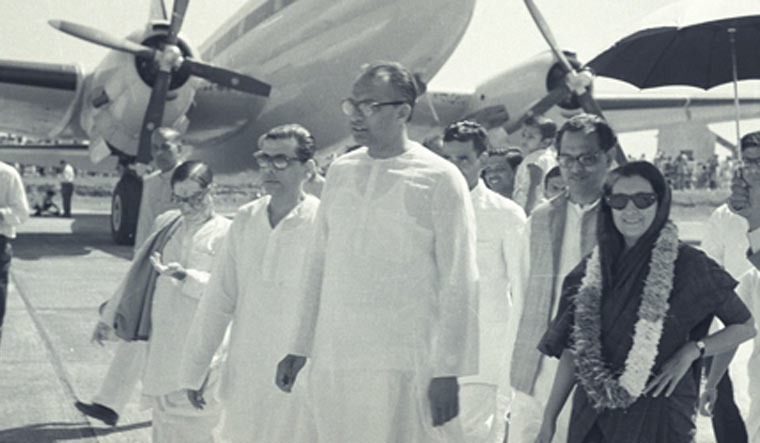 Odisha was defined by the leadership of Biju Babu, and Naveen Patnaik has kept the legacy of statesmanship going. A five times CM and soon to break record of the longest serving CM, Odisha has moved a long distance under his prolific leadership and vision. He has showed the world how leaders should be – warm, kind, bold, humble, realistic and empathetic. Taking up the reigns of Odisha in the most tumultuous times to very soon become people's leader, he did it at ease despite being a political novice. Odisha's resilience is the product of his commitment to fight back, come back stronger after every fall.
Between 1891 and 2018, Odisha was hit by about 110 cyclones. The first major natural disaster was the 1999 super cyclone that had destroyed numerous homes, swept away entire villages and killed over 10,000 people. We have bravely faced many like Phailin, Hudhud, Titli, and recently Fani under his prolific leadership. Not even a year after Cyclone Fani, he is again fighting the coronavirus disease (COVID-19) outbreak. Again no one could anticipate how a state like Odisha would react to a pandemic that has fragile healthcare systems when compared to USA and Italy. Yet again we thrived. Odisha's preparedness is so well planned and executed that the national and the international media is asking the world to follow Odisha's plan. He has now set global benchmarks to handle disasters by lifting 8 million people above the poverty line.
Lockdown and Lockdown 2.0
Right now, the world is in the clutches of COVID-19 and Odisha has been successful in tackling the issue. To prevent community transmission in Odisha, Shri Naveen Patnaik initiated to enforce a lockdown over 40% of the state – the biggest of its kind in India's history from 22 March 2020, two days before India goes for a lockdown. Odisha is the first state to extend the lockdown until 30th April, while the centre and other states were still thinking.
Quarantine
Amongst other things, Odisha is the only state which made it mandatory for all foreign returnees to register and be in-home quarantine with an incentive of Rs 15,000 per person who registered on a COVID-dedicated portal. Odisha is also the first state to start dedicated helpline and Whatsapp for people coming from outside state.
A list of firsts
Odisha was the first state to establish dedicated Govt CO VID hospitals run by professional hospitals. It is the first state to have dedicated COVID hospitals in all its districts. From Community monitoring for people on home quarantine, to telemedicine helpline, to sanctioning online passes for people to come out of their homes for buying essential commodities, Odisha has been showing India the way to keep the virus at bay. Odisha is also the first and only state to offer a four-month salary ahead of all health workers. It is the only state to offer a first four-month pension to seniors, healthcare students, four months of pre-service students and the right to receive a three-month PDS grant from government beneficiaries.
Welfare as a priority
Odisha is the first state to provide cooked food to the underprivileged in all panchayats and to start special helpline for guest workers (name for migrant workers) stranded in the state by providing sufficient food, water, shelter and other essential services to the guest workers in the state. Quite systematically, nodal officers were appointed and helpline was initiated to help Odia
workers stranded in other states. The PDS supplies for three months distributed in advance with Women Self Help groups bolstering the battle against Coronavirus.
Benchmark for Humanity
Odisha is the first and only state that has allotted special fund to feed community stray animals. The Government of Odisha approved additional funds of Rs 80 lakh under Chief Minister's Relief Fund (CMRF) for feeding stray dogs/ animals in urban and semi-urban areas across the State during the extended lockdown period till May 3, 2020. Earlier, a sum of Rs.54 lakhs was sanctioned for the purpose. PETA awarded Shri Naveen Patnaik for this effort.
Prepare for the worst, Hope for best
Officials are working on a war footing to combat COVID in Odisha under the guidance by the Chief Minister. Odisha government will soon have 36 dedicated hospitals for treatment of COVID-19 patients. These hospitals covering all the 30 districts of the state will have a combined bed capacity of 6,000. At present, 20 of them have been made operational. Steps are also being taken to ensure availability of medicines and equipment, personal protective gears and oxygen cylinders and t the state has adequate stocks of these materials at present. So far, 1.53 lakh people including doctors and healthcare personnel have been given special training to fight COVID-19 in the state. Covid tests are now being conducted in a large number of centres located at almost all regions of the state.Apart from RMRC, AIIMS and ILS in Bhubaneswar and SCB Medical College and Hospital in Cuttack, the MKCG Medical College and Hospital in Berhampur and IGH, Rourkela have started testing of samples. Odisha has reported 60 COVID-19 cases so far while 18 persons have recovered from the disease. And for last two days, we have not reported any positive case from Odisha which comes as a good news.
Late Shri Biju Patnaik was charismatic and a modern day Kharavela. Naveen Patnaik in contrast is low key and an enigma who has carried that legacy to dizzier heights. Odisha under his watch have shed the unenviable tag of being laid backs and have become movers and shakers. As an adroit dribbler of hockey in his young days, his Greta Garbo kind reticence has made him sui generis, be it managing disaster or evincing empathy for women, or farmers or fighting COVID-19. Shri Naveen Patnaik's work accurately reflects his statement, "4.5 crore people of Odisha are my family, and I am concerned about the well-being of each one of you."