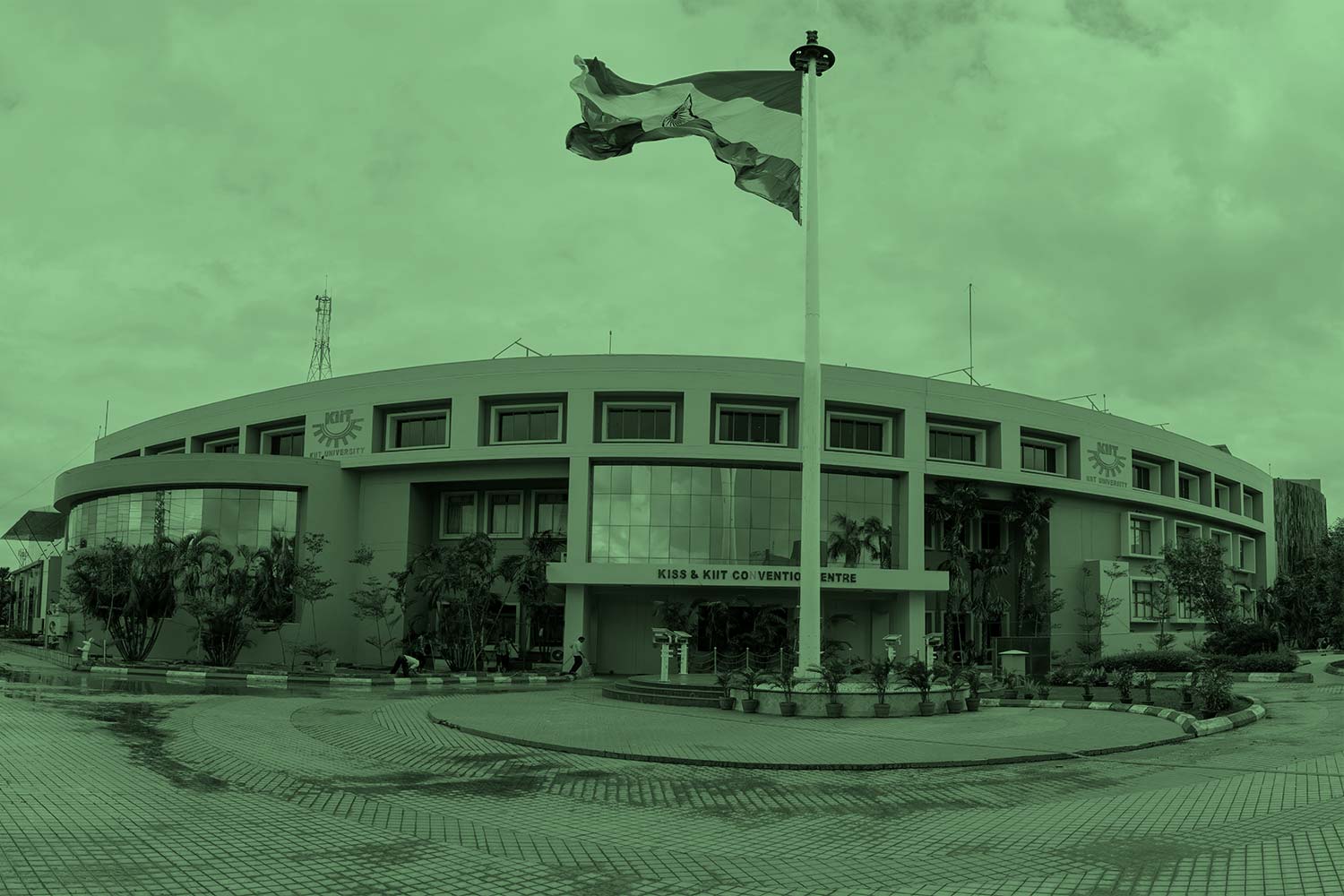 KIIT's Global Ambitions Get a Boost with Institution of Eminence Tag
Kalinga Institute of Industrial Technology (KIIT) Deemed to be University, Bhubaneswar is among India's most sought-after universities, attracting students from all over India and more than 50 countries to pursue professional and technical education. Located in the temple city of Bhubaneswar, it has built its reputation as the most student-friendly university, anchored on the principles of Compassion and Humanity. It was founded in 1992-93 as a vocational training centre from rented premises with a seed capital of only Rs. 5000 ($100 at that time) by eminent educationist and social activist Prof. Achyuta Samanta. However, it was opened as a centre of higher learning in 1997, which is considered as the base year. Since then KIIT has grown exponentially, setting a high benchmark in each area of education.
With a diverse student body of 30,000 representing all States of India and 50 foreign countries, KIIT is on its way to becoming an international hub for quality professional and technical education. In a major boost to its global ambitions, the Ministry of Human Resource Development, Govt. of India has recently declared KIIT Deemed to be University an 'Institution of Eminence' (IoE). KIIT has joined the select league of 10 public and 10 private universities which would be developed as world-class institutions under 'IoE' scheme of the Govt. of India. This ambitious scheme aims to put the country on the global education map. As an 'Institution of Eminence', KIIT will be entitled to greater autonomy and freedom to decide fees, course durations and governance structures, among other privileges as a special category Deemed to be University.
As the institution's global ranking was one of the criteria for selection as an Institution of Eminence, KIIT's impressive rank in international ranking reports like QS and Times Higher Education (THE) helped it achieve this historic milestone. In recent years, KIIT has broken into the World University Rankings, Asia University Rankings, Young University Rankings and Impact University Rankings of the prestigious Times Higher Education. It has also entered QS BRICS and India University Rankings. KIIT Deemed to be University is the only self-financing University in entire Eastern India to find a place in the Times Higher Education (THE) World University Rankings 2019, regarded as one of the world's most prestigious.
KIIT is just 22 years old as an institution for professional education (started in 1997) and 15 years old as a University (declared U/S 3 of UGC Act 1956 by Ministry of HRD, Govt. of India in 2004). But, despite being a very young university, it has secured impressive positions in various benchmark global university rankings.
While global rankings reflect commitment to teaching excellence, KIIT is also accredited in high grades by various national and international accreditation bodies. It was conferred 'A' category university status in 2015 by the Ministry of HRD, Govt. of India. It has been getting 'A' Grade from NAAC, the country's top accreditation body for higher education institutions, for three times in a row. B.Tech programmes have got the coveted Institution of Engineering and Technology (IET), UK accreditation, besides 'Tier 1' (Washington Accord) from NBA.
Research and innovation are important hallmarks of a world-class university. The University has placed much emphasis on creating enabling infrastructure and facilities for advanced research in diverse areas. KIIT has established 18 Centers of Excellence with industry to promote collaborative research – SAP Centre of Excellence, IBM Centre of Excellence, ISRO KIIT Satellite Centre, NI Centre of Excellence, IOT Centre of Excellence, etc. It is among only seven institutions in India selected by Boeing India for its Boeing University Innovation Leadership Development (BUILD) programme to boost aerospace entrepreneurship. Recently, KIIT was ranked 2nd among self-financing institutions of India by the Ministry of HRD, Govt. of India in Atal Ranking of Institutions on Innovation Achievements (ARIIA).
To promote innovation and startup entrepreneurship among students as well as in wider society, KIIT opened KIIT Technology Business Incubator (KIIT-TBI) in 2008. One of its kind initiative in Odisha and among only 60-odd in the country, KIIT-TBI is supported by Department of Science & Technology (DST), National Science & Technology Entrepreneurship Development Board (NSTEDB), and scores of other agencies.
KIIT has 2500 faculty members, drawn from institutions of repute such as IITs, IIMs, XLRI, IISc, JNU, etc., offering a rigorous curriculum and access to varied learning opportunities and hands-on research. They are actively involved in research and consultancy works attracting financial support to the tune of a few million dollars every year. Currently nearly 100 research and consultancy projects funded by various national and international funding agencies like UBS Promedica Foundation, Switzerland; Karolinska Institute, Sweden; DST, DBT, MNRE, BRNS etc. are ongoing with substantial budget outlay.
Faculty members and research scholars of the University have published over 10,000 papers in various national and international journals of repute. About 3200 research papers have been indexed in international databases like Scopus.
KIIT comprises 22 constituent Schools, having 1.5 crore sq.ft. of built up area, imparting cutting-edge skill and knowledge to over 30,000 students pursuing globally recognised bachelor's, master's and doctoral degree programmes in 112 plus disciplines, spanning engineering, medicine, management, biotechnology, law and more. Each School functions from an independent campus having its own dedicated laboratories, library, conference halls, recreational and sports facilities. World-class infrastructure and facilities of KIIT are set in a beautiful green and eco-friendly ambiance. However, what distinguishes KIIT is its student-centric culture, which has been enabling its students to achieve big.
Holistic development of students is the cornerstone of KIIT. Besides academics, effort is made to scout talent among the students in fields of their choice, provide all necessary support and bring out the best in each one of them. Above all, students draw motivation from the life of sacrifice and dedication to humanity of Prof. Achyuta Samanta, who converted his childhood struggle and hardship into his strength and single-handedly established KIIT and Kalinga Institute of Social Science (KISS), a fully-free and fully-residential institute for 30,000 tribal students, with only Rs. 5000. Students see him as a role model, drawing happiness and imbibing the values of ethical conduct, morality and compassion. KISS has been declared a Deemed to be University by the Ministry of HRD, Govt. of India, making it the first university exclusively for the tribal students in India and the entire world.
KIIT follows a busy calendar of seminars and conferences on academic themes. Innovative platforms like 'Nobel Lecture Series' and 'KIIT Knowledge Tree' give students invaluable chance to interact directly with heads of States, top policy makers, legal luminaries, diplomats, scientists, corporate leaders, social workers, authors, sportspersons and winners of prestigious awards, including Nobel laureates and Ramon Magsaysay awardees. Under Nobel Lecture Series, 20 Nobel Laureates have delivered lecture at KIIT on subjects ranging from medicine, chemistry, physics, biotechnology to economics.
Since its inception, it has been recording cent percent placement in all streams which is a record in itself. Hundreds of students are selected in reputed national and international institutions / universities for higher studies due to proactive policies to encourage academic placements. Besides high achievers in academics, who bag coveted jobs through campus placement, KIIT has produced IAS toppers, successful entrepreneurs, Olympians, Chess Grand Masters, actors and even beauty queens.
As a university with a vision, KIIT promotes sports and games among the students, along with academics. Sports activity is facilitated by KIIT Stadium and 15 international standard sports complex distributed in different campuses. Remarkably, KIIT and its sister concern KISS have produced about 5000 sports talents at a single place. Of them 900 are national and over 100 are international level sportspersons in about 30 sports disciplines.