It was six in the morning on a Saturday and I could hear the murmur of two staff talking. They did it in a low voice not to wake me up as I had taken a late night flight. As I woke up, I saw the sun brimming with joy, hurriedly did my morning prayers because I had a series of events planned. I headed out for a walk. This is a part of my daily routine, one hour that I give to myself and for my health, for my health is important for KIIT and KISS. I make mental notes of my to do list as I walk, besides meeting people who come up to talk. Today, I had to cut it short, because it was the last Saturday of the month and I had to visit Siuri Mahaveer Temple, an hour and a half drive from Bhubaneswar.
I completed Puja at home after ablutions and got all the newspapers in the car to read it on my way. I read almost 20 Odia and English Newspapers and that is the gateway to keep myself updated about the happenings around the world. While in the car, I got reminded of the immense cold weather in Delhi during this session and was transported to those chilling winters in Delhi during formative years of KIIT and KISS where I could not sleep because of cold, teeth cluttering all night and body shivering, praying for sun the next morning, if at all it is visible. I remembered how I had not been to or seen Bhubaneswar until I took admission in Vani Vihar. My lack of exposure and travel due to financial constraints, poverty and constant struggle with hunger had limited me to Bhubaneswar.
I remembered my first visit to Delhi and frequent visits to the capital thereafter. Everyone involved in some or the other enterprise like ours have to travel to Delhi. It's a place that turns ideation into implementation. All the Government Headquarters and offices are located in the capital and one can seldom think of not going to Delhi and still get work done. Back in 1992, I had never visited Delhi. I surely had heard of it or seen it in Hindi Films.
When I started KIIT and KISS I had to travel to Delhi often. The finances at my disposal were close to nil. Those days traveling was a luxury I could hardly afford. Now taking loans in the country is easy (they give you repeated calls, till you take the loan if you have shown the intention) but back in those days, asking for money or hand loans was tough. I have been insulted and demeaned more than once for not being able to return the money that I had invested for the development of the institutions. The banks weren't liberal to give loan neither were the general public eager to lend money. Late Shri Pradyumna Bal supported me but he too was limited by lack of finances.
I got images, faint ones, from my first visit to Delhi. I had to travel in a 3 tier compartment. Upon reaching there, a completely new place, my friend had set up my stay at his friend's hostel room in Jawaharlal Nehru University. Our host was a sociable person and helped other visitors from Odisha to stay in his room. JNU is located in South Delhi and the 615 bus route connected it to Central Delhi. The stay was free and food was cheap. Moreover, it was a pleasant surprise to see such a liberal atmosphere coming from Odisha. About 7 to 8 guys from Odisha would stay in his room which made sleeping at night difficult for us. The people staying in the room would sit and chat all night by the open amphitheaters and Parthasarthi Rocks and would get to work at sunrise. Finding space was a luxury too but there was no other option. We would eat there in the hostel because the food was cheap and subsidized. But my travel during winters was very difficult. The temperature dropped below -1 degree. There is literally a Kulfi point in the campus I was told but never had the courage to go there nor did I have enough warm clothes ever. Years later, I went to JNU as a speaker to share the journey of KIIT & KISS.
Travelling in Delhi was another hurdle adding to the struggle of life. I used to travel by local buses which was confusing for an outsider during those days. Those were not even the days of Google Maps. (I still don't use it because I don't have a smartphone) I had to go back and forth to the Shastri Bhawan and other offices in Central Delhi to get files approved while setting up the University. Without any influence and sources, it was tough to get a meeting or even enter the building of the offices. Sometimes, by the sheer innocence of my look and consistent effort, some peon would let me in.
Such was the ordeal for the first 5 to 7 years. When the finances became better, I started traveling in Rajdhani express. It was amusing to see the hospitality on offer – completely AC coach, free meals and a bedding to sleep. Years later, in 2003, I took my first flight to Delhi which flew me from Bhubaneswar in 2 hours. It was a surprise! Now, I have travelled to more than 50 countries and visit Delhi four times in a month. Thanks to my tryst as a Member of Parliament, Rajya Sabha and now Lok Sabha, my Delhi trips have increased. I stay in the comfortable Odisha Bhawan well equipped to bear the bitter cold. I have not taken the official accomodation entitled to me as an MP. I feel at home in Odisha Bhawan.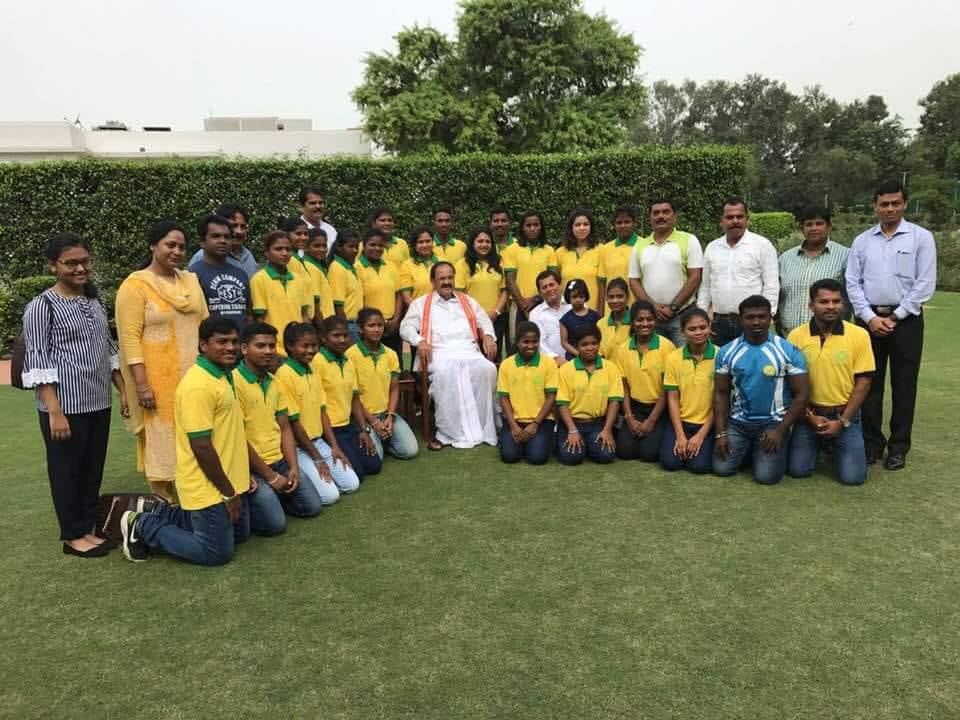 Today, we send KISS students in flights to several countries and events. Travelling by Rajdhani is like a regular occasion for KISS students. If I have to compare the times now and then, I can easily state that it is there is a difference of an era. The newly globalized state then didn't have the essentials to provide help to the poor or the unfortunate. Now things have become better. Now people can avail help and help reaches them in time.
In retrospection, I realize that because of my patience and persistent hard work with honesty, today I have the pleasure of making the lives of others comfortable and easy. Now even when I can travel the entire world, I usually limit my routes to work. Personally, I have no such wishes of luxury for I remember my roots of struggle and poverty and one should always stay grounded to the roots. One should always be humble and give back to society.
I remember what my mother used to say, (Odia proverb) meaning the tree laden with fruits bend low. When you really have something to offer to the world, then you can become truly humble. A tree when it has no fruit to offer remains erect. But when the tree is laden with fruit, it bends down. If you are all pride and ego, then nobody will be able to get anything worthwhile from you. When you have genuine humility, it is a sign that you have something to offer to mankind. I have kept this lesson close to my heart.