I live a very open life, a life where I practise what I preach. There is no compartmentalisation of who I am and how I want the world to see me. This honesty with myself and to the world makes life simply unpretentious. As readers of my blog, you know about me, my trysts and stints and my story of hair-raising grief and profound resilience. My humble beginnings and unending struggle to come out from a poverty-stricken household to be able to empower generations is known to all. The struggle for running and maintaining two institutions of a massive scale and scope is enormous and continues even today. I have not got leisure or time to study, read, research and indulge in watching movies or the content on OTT's. I have just worked in the field without taking any sort of break. However, in the last one and a half years of the pandemic, with almost no work related travel, I have got time to catch up on what I like besides the work that is going on.
I have been watching many mythological TV Shows during this time of social distancing – Ramayan, Mahabharat, Jai Shri Krishna, Devon ke Dev Mahadev and the likes. These shows are very riveting as I find immense value in epics. These shows are also a perfect reminder of the golden times and guiding light for how we wish to lead life from here on. It is a mix of purpose, nostalgia and great narrative. From these episodes, I have earmarked three instances which are practically very close to my life. These are the three kernels of my work, my priority for which I have dedicated my life and continue to struggle till date. These three incidents from various episodes of Devon ke Dev Mahadev have a special significance in my life which I recount here.
Once when Goddess Saraswati, the deity of wisdom was disappointed with Lord Brahma because of some reason and left the surface of earth, the weight of ignorance increased on the earth. Lord Shiva had to incarnate and come to life to restore the balance and ensure that wisdom and intelligence prevails. According to him, there is no progress in the society and state if there is no wisdom, culture and values. I could relate this to my life that without being learned, just acting upon my sixth sense, I have dedicated my life to educate the children. No child should be deprived of education – that's the objective of my life. Through our efforts, we have enabled, empowered and educated millions. Education empowers and that is why I say it is the third eye of a child.
I recall a second episode when all demons and gods once come to pay their service to Lord Shiva. They all waited to pay their tribute as Lord Narayana was late at that time. When Lord Shiva asked, "Why are you late?" "I had stopped to give food to a hungry father and son. Lord", replied Narayan. "Please don't be angry on me and excuse me.", he added. Lord Shiva replied, " I can never be angry. Your purpose was divine. You were late because you were feeding the hungry. On earth, even if one child remains hungry, the Gods also starve." For the last thirty years, we have worked at the intersection of nutrition and education. Through our efforts at KISS, we have been providing nutritious meals to tribal children for the last 30 years. Even at the time of pandemic, we have extended a helping hand to provide food relief to people at margins. There is nothing in this world that gives me greater contentment than feeding the hungry and enabling millions to have a life of dignity and earn their own livelihood.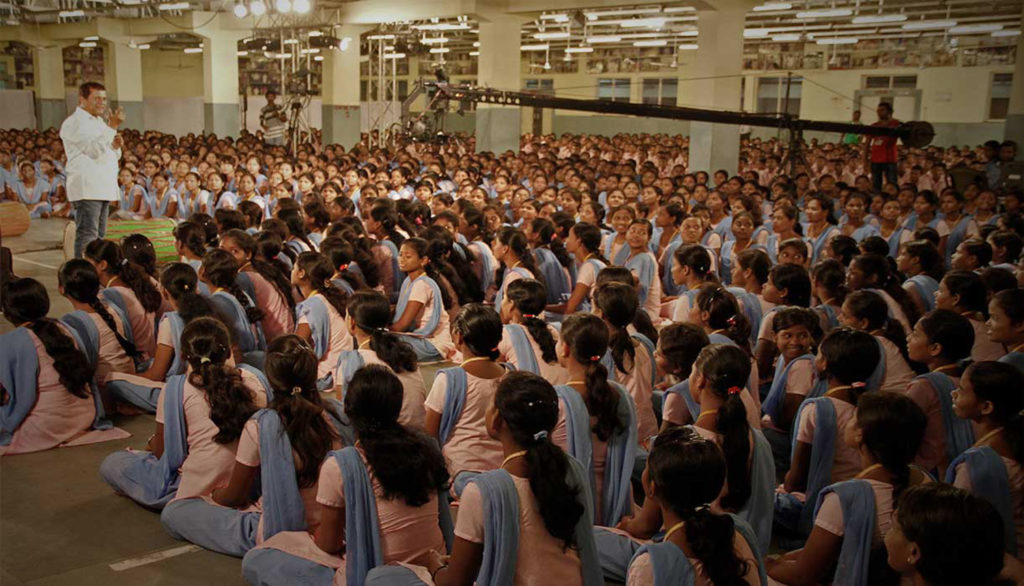 The third episode relates to the respect to be given to women. Where women are not respected, the society and civilisation doesn't prosper. I respect women and it comes innate to me. I feel women are more courageous and strength-providing creatures than men could ever be. Every day, women face discrimination, poverty and violence just because they are women. Globally, at least one in three women experience violence in their lifetime. Women work longer hours and are paid less. Fewer than one in four parliamentarians worldwide are women. Women's rights are human rights, yet women and girls everywhere are still denied their rights. However, at KIIT and KISS, we have created a gender sensitised work environment where women are respected and we have non negotiable zero tolerance policy on gender related harassment and abuse. I always explain my girl students at KIIT & KISS how they can learn and lead without fear.
I have been diligently working without introspecting on it – Is it a good way to work? Is it yielding correct results? Is it sustainable? These questions kept springing up in my mind but I have never answered them or given a deeper thought. But this pandemic has given me opportunity to reflect. Now after watching this mythological series, I realise that I have been working in the right direction and for a just cause – Education, Food and Women Empowerment in true letter and spirit. I also commit to passionately work towards these causes, till the last breath of my life, as lessons learnt from God.