My last week's blog continues and here is the second part. Back in 1993 – 94, we had started a small Industrial Training Institute in a rented house. We didn't have the money nor the support to raise funds from so we worked on hand loans. I used to live in a rented house, a LIG flat, in VSS Nagar, a locality near Rasulgarh in Bhubaneswar. I had taken up a job as a lecturer at Maharshi College. At that time, with hard earned money, I purchased a second hand bike during that time to commute between my job and my enterprise.
Because of official work, I used to stay in contact with secretariat and a clerk there to be precise. For the sake of preserving his identity let's call him "Kirani". I used to get a lot of my work done through Kirani.
Kirani's wife was expecting a child in those days. They used to live in Sailashree Vihar, in a small rented house, modestly making two ends meet in a newly developed, yet unflourished area.
Kirani and his wife were both very close to me and I used to help them whenever they needed it, it was my token of gratitude for the work that he did for me.
Kirani couldn't afford to buy his private vehicle nor was public transport so fluent and efficient as today. Bhubaneswar was almost a rural city back then. As Kirani couldn't take his wife to the doctor on his cycle, he requested me to take both of them to the doctor on my bike.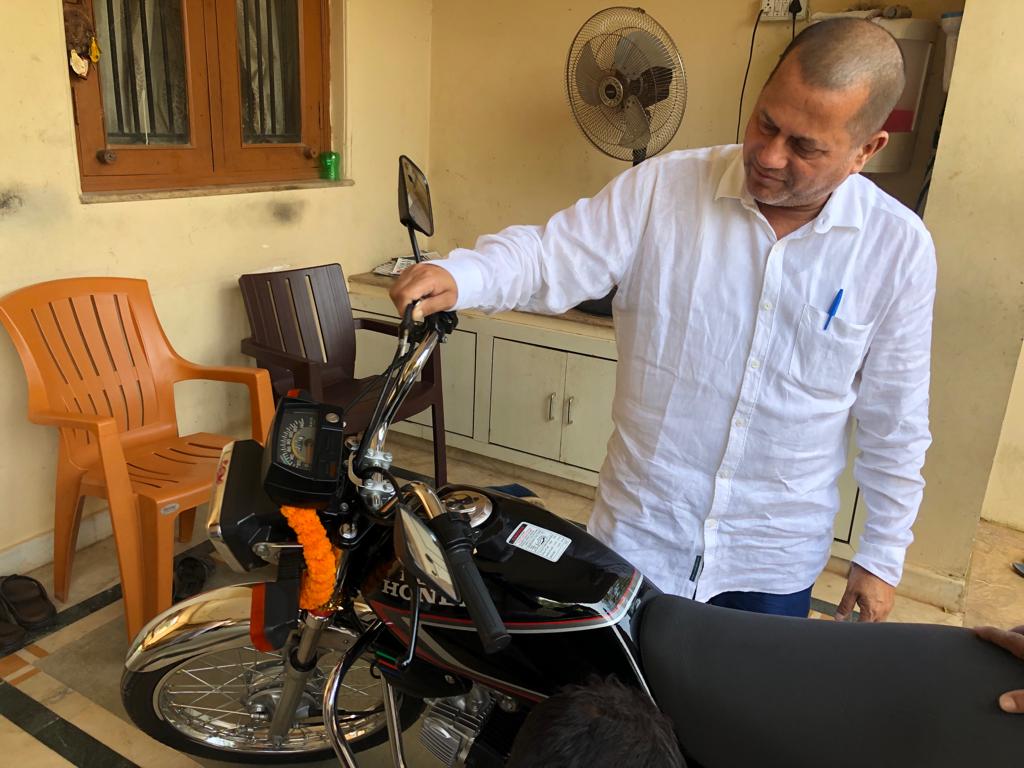 I knew it would be tough on my bike as it was second hand, but I was eager to help. Since I agreed to help, I had to take the couple on my bike to Gynaecologist who stayed in Ganga Nagar, which was far from Sailashree Vihar. I used to sit on the oil tank of the bike as the couple took up all the seat space. The entire doctor's session would last for 4 hours every weekend. Usually, I started by 6 pm. I would take one hour to go from VSS Nagar and pick up the couple at Sailashree Vihar. Then again, we would go to Ganga Nagar and wait for the doctor for 2 hours. After the check-up, I dropped the couple home and got back to my house in VSS Nagar which consumed another hour. 10 pm is when I would reach home. This would happen at least four times every month and yet, my bike would never fail to execute the task.
People close to me suggested that taking a pregnant lady on a bike wouldn't be wise. So, I planned on renting an Ambassador car. The car, during those days, would cost 30 rupees an hour on rent. I decided to pay 120 rupees from my pocket for the ambassador car and let the couple go to the doctor. The couple denied it. The Kirani informed me that the Hero Honda was very comfortable and they felt the bike was lucky. They didn't want a car and wanted to travel on my bike.
I always kept my commitment. I took the couple once every week for the check-up. This process continued till the delivery of the child. They were blessed with a healthy boy.
During those tedious hours when I was helping people, the bike had always helped me. Like I had mentioned in my last blog, the bike has been my lucky charm and has never given me any trouble. I was riding an average of 300 kilometres for the first 15 years and executing all works for KIIT and KISS while helping people and yet, the bike never failed to deliver what it needed to.
One doesn't need abundance of wealth to help If one wants one can do it with small gestures by saying commitment to the values.