Sports is inspiring, immersive, emotion-evolving and a catalyst for change. No one can deny the life-changing potential of sports. I strongly believe if sports in India is given its due & right preference, the budding problems of the youth will be solved peacefully. Right from the inception of the Kalinga Institute of Industrial Technology (KIIT) and Kalinga Institute of Social Sciences (KISS), I tried to emphasise sports even though we were primarily building academic universities. With our dedicated efforts at Empowerment through Sports from 2005, I have made the Sports Department & its Wing, a high rise mountain (When I say mountain, I really mean it). Experts from the field have certified our huge state-of-the-art sports infrastructure as next to none.
No other university has been able to produce sportspersons to the tune of what KIIT and KISS have done in the last two decades. Our students have participated and won laurels in the Olympics, ASIAD, South Asian Federation Games, Commonwealth Games and other international and national events of prominence. At KISS, sports is well integrated into the curriculum from the age of five. At KIIT, the students interested in sports and players are groomed to bring laurels to the state and nation. In Hindi, I coined the phrase "खेलते खेलते पढ़ते रहो और पढ़ते पढ़ते खेलते रहो" which literally means that sports and academics should go hand-in-hand. I hope that sports is given its right importance and children inclined towards sports are encouraged to take it up as a professional avenue.
Having contributed so vehemently, we are thrilled to be an integral part of the development of the sporting culture in our country in general and Rugby in particular. Rugby is very close to my heart. I remember introducing Rugby at KISS during 2004-5 with an intent to translate the relentless commitment these tribal children had towards sports to professional excellence. To aid them with a proper channel of facilities and infrastructure, we took special initiatives. It was a great match as the kids filled with rigour and passion had the physique and dedication much needed in Rugby. Moreover, it did not require any special equipment.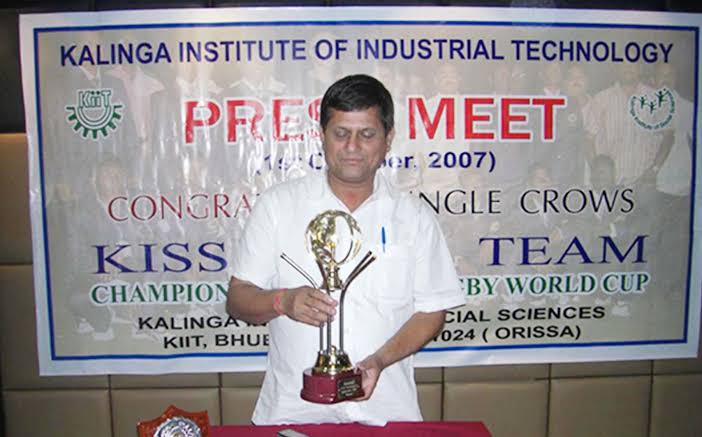 I remember distinctly that when we had introduced Rugby at KISS, it was neither popular nor played on a great scale all over India. After a lot of effort, we had managed to rope in the state coach of Bengal and technical advisors from London to train our children at KISS. And then came the U13 Rugby world Champion which was slated to be held in London. I oversaw the arrangements for the trip starting from buying the fabric to getting them a suit stitched for the formal events. It was quite surreal to dress up these young kids, barely teenagers into fresh and fancy linen. Even I did not know much about it. I think that these children who barely spoke the local language and had no access to the events of such magnitude, preparing to take the centre stage, was so warm and deeply moving.
Against all odds of freezing weather, unfamiliar food and foreign language, we took a huge chance in sending the cohort for the tournament. There were a lot of eyebrows raised, people were mad at me and even on this decision of mine, citing reasons of accountability and just the sheer number of variables that could potentially go south. But I was confident in the ability and grit of our kids. Despite being much shorter in height and fighting the weather conditions and everything else in their way, they brought the championship trophy home for us.
It was such a pleasant surprise to see them dine with cutlery so effortlessly at their reception dinner in Kolkata on their return back to India.
And since that day we've been pushing Rugby. As a result, any national team today in India consists of students of KISS in their ranks. Today, if Sumitra Nayak is recognised and felicitated throughout the country and got a scholarship from the state and if Bhagyalaxmi is awarded a notable position of a forest ranger, is only through their contribution to Rugby. Hopi Majhi, Munna Murmu and Meerarani Hembram are household names.
I'm glad that our state is sponsoring the Rugby Team and KIIT is collaborating in this initiative. Our nation's contingent is practising at the campus. Odisha Team performed extremely well in the recently concluded championship. And a special mention goes out to Rahul Bose, the incumbent president of the Indian Rugby Football Union. I hope under his leadership, Rugby will be propelled to new heights throughout the country.
I want to drive home a point that it is a question of opportunity – a bridge between existing and living. Given opportunities, anyone can excel and we are a strong example of this belief.