Dussehra, the day devoted to 'Adi Shakti' is considered to be an important day in the Hindu calendar. It is an auspicious occasion to organise Puja especially of the vehicles bought. Amidst all the festive galore, I get immense fulfillment to see the growth of the vehicles, buses, cars and vans at KIIT and KISS.
It is very different kind of feeling, seldom possible to define through words, to see that KIIT and KISS that started with almost no durable goods on a rented premises thirty years ago has charted a steady growth trajectory and now has a fleet of 500 buses and cars for the convenience of the students, staff and guests.
On the day of Dussehra, an elaborate puja is performed of our huge fleet of cars and buses. It is nothing short of a miracle that something that started with not a single two or four-wheeler, has a huge fleet and transport department to boast of.
I vividly remember that I bought a second-hand Ambassador to supplement the funds required for running KIIT ITI – the foundation institution that has now grown into KIIT and KISS. I used to rent the Ambassador to provide whatever extra investment that I could put into ITI. And I remember a huge financial crunch I faced once, for which I had to sell off the Ambassador at Rs.90,000 at that time to buy machines and equipments for the institute. In fact, the inspection at ITI also got through because of the presence of those equipments and the Ambassador – which was once bought to generate income and later had to be sold. Such were the times.
Soon, the vehicle closest to my heart became a second-hand Hero Honda Sleek. It has been a silent witness to our exponential growth, and has as a trusted partner, has always been by my side. Earlier, as a bike to cover the length and breadth of Bhubaneswar daily, gathering penny by penny and barely making ends meet, to now at the porch of my rented two bedroom home. I adore this vehicle of mine every day and especially when I ride it during Dussehra.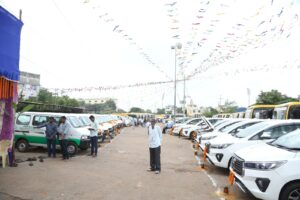 I was always told and advised to outsource Transport related activities as maintaining drivers and attendants for a huge fleet is difficult. But I have a big heart and I dared to build an in-house Transport Department with over 600 drivers, cleaners and attendants. They have been loyal, have never raised any unreasonable demand, and have worked efficiently. In fact, they have loved me dearly. They lead a happy life here.
At once, I remember my childhood when I see the huge fleet parked in the gargage. Those reading the blog, know I come from the humblest of backgrounds and have made it all with passion, struggling for each phase of growth. For us, surviving was the only aim, worrying for the next meal our only priority. I had never thought I could do anything big or achieve anything till I was in High School, just worried about survival and earning something to drive my family out of struggles.
I want to share something that I have never told in public before. Back in those days, I would interact with drivers, cleaners and attendants from my village and nearby villages. I used to chit-chat with them and learn about steering wheel, clutch, brake and acceleration. I would theoretically learn how to drive a car. I was also amazed at how some friends drove buses and trucks. I was convinced if I were not to become anything, despite full efforts in my studies, I would become a driver or cleaner and manage to earn something for my livelihood.
But destiny had something else in store for me. I am taking care of about thousands of drivers with God's grace. Through KIIT and KISS, I have been able to be employ about thousands of drivers for our ever evolving fleet. Destiny had it written for me, otherwise I could have been a driver too. I say this not undermining any profession. All of it is hard work and sweat and it all demands sincerity.
Writing this post allowed me to reflect on my past, how I prepared for uncertainties, hoping for the best. I appreciate every step of the journey. I feel a deep connection with those at the base of the employment ladder, such as drivers, and consider them an integral part of my story.